Festive: Alfresco Picnic Christmas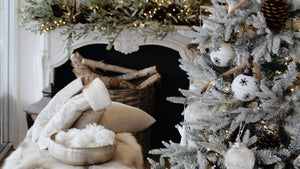 OUR 12 DAYS OF CHRISTMAS SALE IS on now!
December 1st: 20% off Ceramics
Starting from Friday December 1st to the 12th, a new 20% off floor-stock sale collection will be released at 7am.
Each daily offer is exclusively valid for the specified day only.*
Available in-store and online. While Stocks Last. Conditions Apply.
*LEARN MORE
SHOP CERAMICS
60 products
---
Festive Theme: Alfresco Picnic Christmas
An Alfresco Picnic Christmas theme is a fun and enjoyable way to celebrate the holiday season by taking the festivities outdoors.
This theme centres around hosting a Christmas gathering in an open-air setting, such as a park, garden, backyard, or any natural environment. It combines the traditional elements of Christmas with the informality of an alfresco setting.
Here are some key features of an Alfresco Picnic Christmas theme:
Colour Palette: For our Alfresco picnic theme, we selected a colour palette of white, black, green, and brown, to bring both contrast and harmony to the natural environment.
Outdoor Setting: The primary characteristic of this theme is the outdoor location. You can choose a scenic spot with natural beauty, whether it's a sunny beach, a picturesque park, or your own backyard. The idea is to enjoy the beauty of nature and fresh air.
Casual Seating: Instead of formal dining, picnic-style seating is used. Think picnic blankets, outdoor lounge chairs, floor cushions, or wicker furniture. It's all about creating a relaxed and laid-back atmosphere.
Grounding the Space: Define your picnic or outdoor entertaining area with a large outdoor black and white rug.
Games and Activities: To entertain guests, games like Boules, Corn Hole, and Quoits can be set up for some outdoor fun. You can also consider holiday-themed games or activities to bring the Christmas spirit to your picnic.
Living Energy: Incorporate the beauty of nature with timber planter boxes filled with buxus plants, and wicker baskets brimming with vibrant hydrangeas, wildflowers, and pinecones. You could also try hanging miniature natural wreaths from candleholders or outdoor wall sconces.
String Lights or Lanterns: If your picnic extends into the evening, you can add string lights, battery-operated candles, or lanterns to create a warm atmosphere.
Music and Entertainment: Lastly, select high-quality speakers to play background music to enhance the picnic experience. We recommend our portable LED light Bluetooth speakers. 
Elegant Entertaining: Lastly, elevate your picnic experience with a rattan bar cart, elegantly set with green, clear, and white acrylic glassware, San Pellegrino bottles, and green napery.
With these actionable ideas, your Festive Alfresco Picnic Christmas will be a memorable and inviting celebration for all to enjoy!
---