Festive: Evergreen Christmas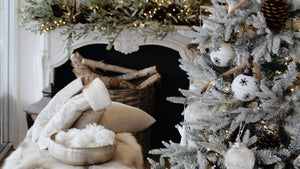 OUR 12 DAYS OF CHRISTMAS SALE IS on now!
December 1st: 20% off Ceramics
Starting from Friday December 1st to the 12th, a new 20% off floor-stock sale collection will be released at 7am.
Each daily offer is exclusively valid for the specified day only.*
Available in-store and online. While Stocks Last. Conditions Apply.
*LEARN MORE
SHOP CERAMICS
85 products
---
Festive Theme: Elegant Evergreen Christmas
The Evergreen Christmas theme is characterised by sophistication and simplicity, creating a refined and uplifting atmosphere.

Some ideas for introducing this festive style into your home include:
Colour Palette: Introduce a colour palette of green, white, and black. These can be brought to life with metallic accents for a touch of lustre.
A Striking Centrepiece: Provide a captivating focal point to your festive table with an oversized green ceramic urn or ginger jar with tall-reaching branches.
Fresh Fruit Displays: Bowls of oranges, lemons, limes, and apples will bring a touch of freshness and zest, infusing your decor with a lively energy.
Festive Treats: Display your most-loved festive treats on a stunning cake stand or serving platter. Some of our favourites include Christmas cakes, mince pies, spiced nuts, and Italian brioche.
Lustre: Fill an array of glass and pewter-topped jars with nuts and dried oranges, offering your guests a visual feast and a delightful snack that complements the holiday spirit.
Metallic Touches: For added lustre, incorporate metallic gold and silver accents in the form of ornaments, candle holders, and tableware.
Contrast and Texture: Create a monochromatic look with black rattan placemats or napkin rings, complemented by stacks of white ceramic plates and water jugs. The combination of textures and hues will add depth and visual interest to your table.
At-Home Bar: Incorporate large metallic ice buckets and champagne coolers filled with your favourite celebratory drinks for guests to enjoy.
Evergreen Festive Tablescape: Add colour and pattern with green and white gingham check tablecloths and napkins or paper serviettes.
Celebratory Touches: Add playful green and gold bon bons to your festive table.
Living Energy: Incorporate a large green pine wreath adorned with black and white gingham ribbon, hanging herbs, and fir branches for living energy.
Christmas Tree: Consider a Filigran tree adorned with hanging orange slices and toadstools. Alternatively, opt for a classic green Christmas tree with white, green, and black ornaments.
Ribbon and Bows: As mentioned above, you can use black and white, or green and white ribbons and bows to decorate wreaths, garlands, and gifts.
The Elegant Evergreen Christmas style offers a refined and enchanting holiday experience, where tradition meets sophistication.
---