Festive: Highlander Christmas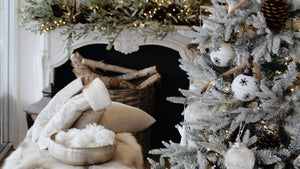 OUR 12 DAYS OF CHRISTMAS SALE IS on now!
December 1st: 20% off Ceramics
Starting from Friday December 1st to the 12th, a new 20% off floor-stock sale collection will be released at 7am.
Each daily offer is exclusively valid for the specified day only.*
Available in-store and online. While Stocks Last. Conditions Apply.
*LEARN MORE
SHOP CERAMICS
55 products
---
Festive Theme: Highlander Christmas
The Highlander Christmas theme draws inspiration from the Scottish Highlands and its rich cultural traditions. It embodies a cosy, rustic, and rugged charm, evoking the spirit of a traditional Highland Christmas celebration. 
Here are some ideas for introducing this theme into your home: 
Colour Palette: Embrace a calm and subdued colour palette of soft blues, greys, tan, and ochre. Alternatively, opt for rich, earth tones of deep reds, forest greens, warm browns, and dark blues. These colours reflect the natural beauty of the Scottish landscape.
Tartan and Plaid: The hallmark of the Highlander Christmas theme is the use of tartan and plaid patterns. These traditional Scottish patterns can be incorporated into decorations, textiles, and table toppers.
Layered Textures: Layer rattan, silver, brass, leather, and pewter to provide a touch of rustic elegance.
Highland Inspirations: Nickel or leather picture frames can be filled with Highland images of Scotland or the countryside, featuring the rugged landscape and the beauty of nature, as well as prints of forest animals, including squirrels, deer, and other woodland creatures.
Living Energy: For living energy, introduce wildflowers, pinecones, branches, acorns, and dried flowers in wreaths, garlands, and centrepieces to bring a touch of the Highlands to your festive table.
Thistle Decor: The thistle, Scotland's national flower, can also be used as a decorative element, whether in wreaths, garlands, or as a motif on tableware.
Highlander Christmas Tree: We recommend a snowy Christmas tree, adorned with layers of pale blue, silver, and grey decorations, featuring pine motifs, miniature deer, and antlers, to capture the spirit of the Highlands.
Tablescape: For a natural and cosy table setting, consider a plaid blanket centrepiece, miniature tree logs, leather napkin rings, and tall-reaching candlesticks, to create an inviting space for shared meals and festive gatherings.
The Highlander Christmas Theme is a celebration of nature's beauty and the rich heritage of the Scottish Highlands. It's an invitation to savour the season in a setting that feels like the heart of nature.
---