Festive: Island Life Christmas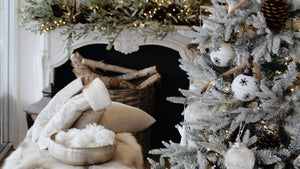 OUR 12 DAYS OF CHRISTMAS SALE IS on now!
December 1st: 20% off Ceramics
Starting from Friday December 1st to the 12th, a new 20% off floor-stock sale collection will be released at 7am.
Each daily offer is exclusively valid for the specified day only.*
Available in-store and online. While Stocks Last. Conditions Apply.
*LEARN MORE
SHOP CERAMICS
92 products
---
Festive Theme: Island Life Christmas
The Island Life/British Colonial Christmas theme combines the relaxed and exotic vibes of island living with traditional British Colonial décor. This theme is all about creating a warm and inviting atmosphere with a touch of tropical flair. 
Here are some ideas for embracing the Island Life Christmas-style in your home:
Colour Palette: The colour palette often includes layers of white, sandy beige, deep greens, and ocean blues, along with vibrant pops of tropical colours such as coral, turquoise, and lush greenery.
Layered Textures: Embrace natural and woven materials such as rattan, jute, bamboo, and wicker for furniture and decor items.
Textiles: Select textiles with exotic patterns and textures, like ikat, batik, or tropical prints, for cushions, tablecloths, napery, and blankets. For freshness and contrast, layer black, green, white, and navy cushions.
Tropical Foliage: Incorporate tropical plants and palms into your decor, either in the form of potted plants, vases, centrepieces, or hanging displays. Think lush greenery such as palm leaves, fiddle leaf figs, orchids, and bowls of tropical fruits such as the iconic pineapple. 
Lighting and Lustre: Illuminate your Island-style Christmas display with tea-light votives, hurricane lanterns, tall-reaching brass candleholders, and more.
Nautical and Coastal Decor: Integrate nautical and coastal elements like seashells, starfish, and large coral specimens. 
Festive Table: Lastly, adorn your festive table with tropical-inspired ceramics, bamboo serving ware, rattan placemats and napkin rings, white linen or patterned tablecloths, and tinted glassware.
The Island Life/British Colonial Christmas theme is a delightful and unique way to celebrate the holiday season with a blend of tropical charm and classic colonial decor. It's perfect for those who appreciate a relaxed, laid-back, and beach-inspired atmosphere during Christmas.
---