Festive: Muted Tones Christmas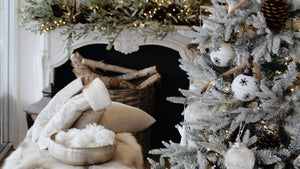 OUR 12 DAYS OF CHRISTMAS SALE IS COMING!
Receive 20% off Select Floor-Stock Items
Starting from Friday December 1st to the 12th, a new 20% off floor-stock sale collection will be released at 7 am every day.
Each daily offer is exclusively valid for the specified day only.
Available in-store and online. While Stocks Last. Conditions Apply.
LEARN MORE
34 products
---
Festive Theme: Muted Tones Christmas
A Muted Tones Christmas theme focuses on using soft and understated colours, typically featuring subdued hues. The goal of this theme is to create a calm and elegant atmosphere for the holiday season, in contrast to the traditional and bright colour palettes often associated with Christmas.
Here are some ideas for incorporating this style in your home: 
Colour Palette: Set the tone with a muted colour palette of champagne silver, muted blues, chalky whites, and caramel.
Lighting: Soft and warm lighting, such as dinner or taper candles, battery-operated candles, or warm white string lights can be used to create a cosy and inviting atmosphere. Other ideas include chalky white table lamps, floor lamps, and hurricane lanterns.
Minimalistic Decor: In this style, decorations are minimal and not overly ornate. Ideas include Scandi-style paper decorations, wire or dried wreaths, and garlands. The focus is on simplicity and understated elegance.
Living energy: Natural elements like greenery, pinecones, and eucalyptus are often incorporated to bring a sense of nature indoors.
Artistic Touch: Artwork or existing decorative objects within the colour scheme may be integrated into the decor to add a personal and artistic dimension.
Festive Christmas Tree: For the Christmas tree, we recommend a large Filigran or Eldora Pine Tree adorned with cinnamon sticks and orange slices.
Decorative Accents: Elevate your look with large coral pieces presented on a brass tray, and clear glass fishbowl vases filled with battery-operated candles.
Tasteful Gift Wrapping: Continue the theme by wrapping your Christmas gifts in brown paper, finished with a sprig of pine.
With these actionable ideas, your Muted Tones Christmas Theme will exude a sense of tranquillity and peace, making your festivities truly special.
---