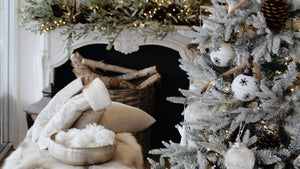 OUR 12 DAYS OF CHRISTMAS SALE IS on now!
December 1st: 20% off Ceramics
Starting from Friday December 1st to the 12th, a new 20% off floor-stock sale collection will be released at 7am.
Each daily offer is exclusively valid for the specified day only.*
Available in-store and online. While Stocks Last. Conditions Apply.
*LEARN MORE
SHOP CERAMICS
86 products
---
Festive Theme: Natural Scandi
The Natural Scandi Christmas theme draws inspiration from Scandinavian design principles and embraces natural elements and a minimalist approach to create a serene and uncluttered Christmas atmosphere.
Here are the key characteristics of this theme:
Neutral Colour Palette: The colour scheme typically features a soft and neutral palette with shades of white, zinc, black, beige, chocolate brown, ivory, and muted pastels. These colours create a serene backdrop for your festive decor.
Vintage-inspired Decor: Achieve a rustic, time-worn feel by combining vintage-inspired elements with a touch of whimsy. Look for faded beauty and shabby chic-inspired pieces such as chippy candleholders, paper sculptures, and white ceramic tealight houses to create a cosy atmosphere.
Natural Materials: Natural materials like wood, stone, and wicker are key components of this style. In addition to wood, zinc, and paper ornaments, utilise existing pieces made from reclaimed wood, and marble or ceramic accents.
Delicate Ornaments: Choose ornaments with delicate details and an aged appearance, such as frosted glass ornaments, ceramic figurines, or handcrafted fabric and zinc decorations like angels, birds, or snowflakes.
Candles and Soft Lighting: Use candles, lanterns, and string lights to create a warm and inviting atmosphere. The soft and warm glow of these lighting elements will add a touch of hygge, a Danish concept of cosiness and contentment.
Soft Textiles: Enhance the Scandinavian feel with beaded runners, embroidered cushions, and ruffled soft fabrics. Consider plush cushions, sheepskins, knitted throws, and faux fur rugs or throws for added comfort.
Distressed Finishes: Add character to your festive decor with distressed or antique finishes. For example, you could use chalk paint on wooden ornaments or furniture, or distress existing items to achieve that vintage look.
Foliage: Bring in a touch of nature with dried floral and botanical accents. Arrange small bouquets of dried roses, hydrangea, or baby's breath in vintage vases. Hang branches from the mantel or chandelier for living energy.
Mix-and-Match Furniture: Add charm and eclecticism by using mismatched furniture pieces. Place a vintage side table or chest near your Christmas tree to showcase ornaments or host a hot cocoa station.
Personalised DIY Touches: Get creative with handmade wreaths and garlands using vintage-inspired materials and embellishments. Craft personalised name tags for gifts using vintage-style paper and calligraphy.
Stylish Tree Base: Elevate your Christmas tree by placing it in a rattan basket or a brown ceramic pot for a natural and rustic touch.
The Natural Scandi Christmas theme is perfect for those who appreciate a laid-back and serene holiday decor style that emphasizes the beauty of nature, simplicity, and the joy of spending quality time with loved ones during the holiday season.
---