Festive: Relaxed Coastal Contemporary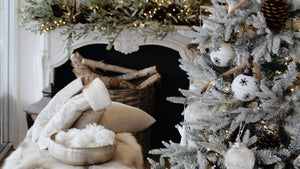 OUR 12 DAYS OF CHRISTMAS SALE IS on now!
December 1st: 20% off Ceramics
Starting from Friday December 1st to the 12th, a new 20% off floor-stock sale collection will be released at 7am.
Each daily offer is exclusively valid for the specified day only.*
Available in-store and online. While Stocks Last. Conditions Apply.
*LEARN MORE
SHOP CERAMICS
40 products
---
Festive Theme: Relaxed Contemporary Coastal Christmas
The Relaxed Coastal Contemporary Christmas theme combines elements of coastal living with a relaxed and streamlined aesthetic. This theme is all about creating a casual and inviting atmosphere that reflects the beauty of beachside environments.
Here are some ideas for incorporating this style in your home:
Soothing Colour Palette: The colour palette often includes soft and soothing coastal colours, including layering of white, celadon green, blue, aqua, seafoam green, and beige. 
Textures: Incorporate coastal and beach-inspired materials like weathered wood, driftwood, seashells, and natural fibres (like jute and sisal).
Textiles: Elevate your space with the beauty of hand-block print cushions by Walter G, in a variety of coastal hues and geometric prints. 
Green Foliage and Lush Leaves: Infuse your surroundings with living energy, including lush green foliage, eucalyptus, and Monstera leaves for a coastal feel. Add additional greenery with potted palms, succulents, or fiddle leaf figs. Hang long garlands of eucalyptus for a laid-back feel.
Decor Accents: Create a contemporary coastal atmosphere with black iron trays, board games for leisurely fun, coral specimens, glassware for entertaining, and silver servingware for a touch of lustre.
Beaded White Ornaments: Adorn your space with beaded white ceramic and paper Christmas ornaments, beautifully displayed in ceramic bowls.
Lighting: Light up the room with an array of tall white pillar candles, by Enjoy lighting, casting a soft, inviting glow. We also recommend layering different light sources, like hurricane lanterns, string lights, and table and floor lamps. 
Christmas Tree: Lastly, choose a green Christmas tree or a filigree tree and decorate it with paper decorations in white and moss green for a casual look.
With these actionable ideas, your Coastal Contemporary Christmas will be a relaxed, elegant, and inviting celebration by the sea.
---