Festive: Relaxed Ranch style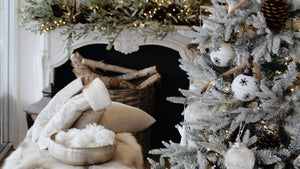 OUR 12 DAYS OF CHRISTMAS SALE IS on now!
December 1st: 20% off Ceramics
Starting from Friday December 1st to the 12th, a new 20% off floor-stock sale collection will be released at 7am.
Each daily offer is exclusively valid for the specified day only.*
Available in-store and online. While Stocks Last. Conditions Apply.
*LEARN MORE
SHOP CERAMICS
54 products
---
Festive Theme: Relaxed Ranch style
A Relaxed Ranch Style Christmas theme is a warm and inviting holiday decor approach inspired by the rustic charm of ranch living. It combines the cosiness of a traditional Christmas with the laid-back and comfortable atmosphere associated with ranch-style homes. 
Here are some ways to introduce this theme into your home:
Colour Palette: Navy blue, white, tan, champagne silver, and green.
Texture: The textures of leather, rustic timber, wool, jute, and faux fur can be used to evoke the rustic charm of a ranch-style Christmas.
Christmas Tree: For the Christmas tree, we recommend a classic forest green Christmas tree with a natural rattan or hessian tree skirt.
Decorations: Decorations in blue, white, silver, and cut glass can add a touch of lustre to your Christmas tree and garlands.
Natural and Rustic Decor: Incorporate natural materials like wood, leather, and stone into your displays, such as wooden crates, burlap runners, wrought iron trays and candleholders, and leather magazine holders or armchairs.
Living Energy: Style tall-reaching branch displays, as well as punches of magnolias, and hydrangeas in blue and white Ginger Jars to add visual interest and surprise.
Sharing Platters: This style lends itself to family-style dining. We recommend filling sharing platters and reindeer sweets bowls with spiced nuts, dried fruit, and other nibbles to invite you and your guests to enjoy the festive celebrations. 
Cosy Lighting: Adopt a layered light scheme, with a combination of floor lamps, table lamps, accent light, and candlelight, to infuse the space with a warm and inviting glow.
Metallic Accents: Introduce metallic accents in the form of hurricanes, cheese knives and serving ware, pewter frames, mercury glass silver and champagne baubles with navy ribbons, silver birds, pagoda lanterns, and glossy blue and white chinoiserie decorations.
The Relaxed Ranch-style Christmas is an invitation to celebrate the season with a sense of simplicity, comfort, and togetherness. 
---