Festive: Traditional Christmas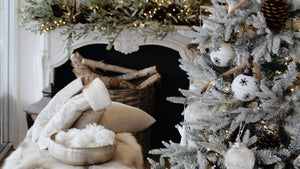 OUR 12 DAYS OF CHRISTMAS SALE IS on now!
December 1st: 20% off Ceramics
Starting from Friday December 1st to the 12th, a new 20% off floor-stock sale collection will be released at 7am.
Each daily offer is exclusively valid for the specified day only.*
Available in-store and online. While Stocks Last. Conditions Apply.
*LEARN MORE
SHOP CERAMICS
61 products
---
Festive Theme: Traditional Christmas
The Traditional Christmas theme celebrates the warmth, richness, and character of the holiday season. It's a theme that embraces time-honoured traditions and aims to bring a sense of nostalgia and comfort to your festivities.
Here are some ideas for introducing the Traditional Christmas theme into your home:
Colour Palette: Introduce the classic festive colours of burgundy, red, green, and gold into your festive display and table settings. 
Welcoming Garlands and Wreaths: Set the stage for a warm and inviting atmosphere by adorning your doors and windows with lush pre-lit green garlands and wreaths.
Lighting: Illuminate your festive displays with floor, table, and hanging lanterns, to cast a warm and comforting glow throughout the home. You can also incorporate tea-light votives and brass or gold candleholders for added lustre.
Fireside Decor: If you have a fireplace mantel, consider a traditional display of figurines, alongside old leather books, candleholders, and generous displays of magnolia and hydrangea flowers.
Living Energy: Add living energy with burgundy dahlias, magnolia, and hydrangea flowers into your home. You can also adorn your stairwells with illuminated garlands and stylish swags.
Christmas Stockings: Stockings can be hung by the fireplace or on a mantel to be filled with small gifts and treats.
The Traditional Christmas theme invites you to revel in the classic festive colours, the warmth of flickering candles, and the timeless beauty of nostalgic decorations, to create an atmosphere where holiday memories are made. 
---