Eldvarm Fire Tools Australia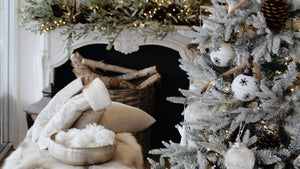 OUR 12 DAYS OF CHRISTMAS SALE IS on now!
December 1st: 20% off Ceramics
Starting from Friday December 1st to the 12th, a new 20% off floor-stock sale collection will be released at 7am.
Each daily offer is exclusively valid for the specified day only.*
Available in-store and online. While Stocks Last. Conditions Apply.
*LEARN MORE
SHOP CERAMICS
44 products
---
Enhance your outdoor and indoor entertainment space with our exquisite selection of Eldvarm Fire Tools. Designed to combine functionality and style, our collection offers a range of contemporary and stylish options. Shop for Eldvarm Fireside Tools in Australia at Suzie Anderson Home, where you can find Scandinavian designs and high-quality materials. Upgrade your fire experience with Eldvarm Fire Tools today!
Eldvarm fire tools and fireplace accessories are a range of premium products designed to enhance your fireside experience. They are crafted with both functionality and aesthetics in mind, combining stylish Scandinavian designs with high-quality materials. Eldvarm offers a variety of fire tools and accessories that can elevate your outdoor or indoor entertainment space.
Explore our Eldvarm Range:
Some common Eldvarm fire tools and accessories include:
Fireplace Tools Set: This set typically includes essential tools such as poker, tongs, shovel and brush. Eldvarm's fireplace tools are designed with ergonomic handles and sleek finishes for easy and stylish handling.
Eldvarm Emma Classique Shovel & Brush: This fire tool set is both functional and stylish. The handy shovel makes cleaning away excess ash around your fireplace easy, while the fireplace brush is 100% natural, a unique blend of horse hair and Tampico for the perfect fireplace brush.
Fire Screens: Fire screens help prevent sparks from flying out while providing an extra layer of safety.
The Emma Firewood Basket: The Emma Basket is designed for stylish firewood storage but is truly multi-purpose. The basket can be used for anything in your home — towels, magazines, toys, and even plants. These are sturdy and visually appealing holders or carriers designed to store and transport firewood conveniently. Eldvarm offers various sizes and designs to suit different spaces and preferences.
Elevate the look and functionality of your fireplace
Eldvarm fire tools and accessories are known for their attention to detail, quality craftsmanship and timeless designs. They are designed to not only serve their functional purpose but to also enhance the overall aesthetic appeal of your fireplace or outdoor fire pit.
All of the pieces available at Suzie Anderson Home are crafted with premium materials and boast timeless sophistication. You can also enhance your fireside comfort with our range of rugs, blankets and throws and bedspreads or elevate your space with our selection of vinyl flooring. Whether you're looking for Scandinavian style fireplace tools or high-quality British-Colonial Style homewares, Suzie Anderson Home offers a bespoke and curated range that makes home styling easy. 
FAQs
What materials are used in the Eldvarm fire tools available at Suzie Anderson Home?
The Eldvarm fireplace tools available at Suzie Anderson Home are crafted with high-quality materials to ensure durability and functionality. These fireplace and firepit tools are made from a combination of premium materials such as powder-coated steel, leather and wood. The use of these materials not only enhances the aesthetic appeal of these fireplace accessories but also ensures their longevity and resistance to heat.
Can I use Eldvarm fire tools both indoors and outdoors?
Yes, you can use Eldvarm fire tools and fire accessories both indoors and outdoors. Whether you have a fireplace in your living room or an outdoor fire pit in your backyard, Eldvarm fire tools are designed to handle both environments. Their robust construction and heat-resistant materials make them suitable for various settings.
What tools do you need for a fireplace?

You'll typically need to purchase standard fire pit tools such as pokers, tongs, shovels and brushes, along with other items that ensure your fireplace functions safely. Consider investing in a few of the below fire tools: 
Fireplace screen — An essential safety accessory that acts as a barrier between the flames and your living space. 
Fireproof gloves — Fireproof gloves provide the necessary insulation and allow you to handle the firewood safely.
Chimney brush — Regular chimney cleaning is essential for wood-burning fireplaces to remove creosote and soot buildup. A chimney brush is designed to clean this flue effectively. 
Hearth rug — A fire-resistant rug will protect the floor in front of the fireplace from sparks or accidental ash spills. 
Firewood rack — A firewood rack keeps your logs elevated off the ground, allowing air to circulate and helping to prevent moisture buildup.
 Do the Eldvarm fire tools come with a warranty?
Customer care and support are always high on our priority. Although we strive to ensure only high-quality pieces, should your online order arrive damaged or defective, please reach out to Suzie Anderson Home via email within 48 hours of delivery with a full description and photos.
If goods are returned damaged or faulty due to manufacturers' defects, Suzie Anderson Home will endeavour to repair or replace the goods to your satisfaction. If we are not able to repair or replace the goods, a full refund of the purchase price will be offered.
 How should I clean and maintain the Eldvarm fire tools from Suzie Anderson Home?
To clean and maintain your Eldvarm fire tools and fireplace accessories from Suzie Anderson Home, it is best to follow the manufacturer's instructions. Generally, wiping the tools with a soft cloth to remove any dirt or residue is sufficient. Avoid using harsh chemicals or abrasive cleaners, as they may damage the finish or materials. Regular maintenance, such as inspecting for any signs of wear or damage, will help prolong the lifespan of your fire tools and ensure their optimal performance. 
---