Home Decor: Decorative Trays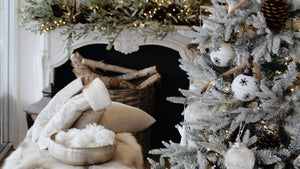 OUR 12 DAYS OF CHRISTMAS SALE IS on now!
December 7th: 20% off Garden Pots
Starting from Friday December 1st to the 12th, a new 20% off floor-stock sale collection will be released at 7am.
Each daily offer is exclusively valid for the specified day only.*
Available in-store and online. While Stocks Last. Conditions Apply.
*LEARN MORE
SHOP GARDEN POTS
17 products
---
Introducing Suzie Anderson Home's exquisite collection of decorative trays, available in round, square, and rectangular shapes. These trays are designed to bring both style and practicality to your living space. Handcrafted by skilled artisans using high-quality materials, our decorative trays offer an elegant solution for keeping your belongings organised and adding a touch of sophistication to your interiors.
Discover our range
Made from premium rattan, leather, metal and even marble, each tray is beautifully crafted to ensure its durability and longevity. The texture and tones of these materials make them an ideal choice for storing various items, such as keys, jewellery or small household essentials. With our diverse range of sizes and shapes, you can easily find the perfect tray to suit your specific storage needs.
Not only do our decorative round trays serve a functional purpose, but they also enhance the aesthetic appeal of your home. They effortlessly blend with any décor style, adding a hint of natural charm to your living space. Whether you place them on a coffee table, console or ottoman, our trays become an exquisite decorative accent that elevates the overall ambience of your home.
Benefits of using decorative trays for organisation
Efficiency and time-saving

— By keeping your belongings neatly organised in our

decorative trays

, you can easily locate and access items, saving you valuable time during your daily routine.

Tranquillity and relaxation

— A well-organised living space promotes a sense of calm and tranquillity, creating a more serene environment for you to unwind and enjoy.

Space optimisation

— Say goodbye to clutter and welcome a more spacious atmosphere. Our

decorative round trays

help maximise your available space, making your home feel more open and inviting.

Easy maintenance

— With an organised system in place, cleaning and maintaining your living space becomes a breeze, saving you time and effort in the long run.
Practical tips for utilising decorative trays in your home organisation
Categorise and arrange

— Use our

decorative trays

to categorise and arrange your belongings systematically. Whether it's remotes, stationery or personal accessories, each tray can serve as a designated spot for specific items.

Regular decluttering

— Make it a habit to declutter your

decorative trays

regularly. Remove any items that are no longer needed or have lost their functionality, keeping your trays free from unnecessary clutter.

Vertical storage

— Take advantage of vertical space by styling your trays on wall-mounted shelving or within bookshelves. This allows you to optimise storage capacity while maintaining a visually appealing arrangement.

Cleaning convenience

— Keep cleaning supplies readily accessible by using a

decorative tray

as a designated spot for your cleaning products. This ensures that you can easily locate and use them whenever necessary.
Shop decorative trays at Suzie Anderson Home today
At Suzie Anderson Home, we offer a wide array of stylish and functional
decorative trays
, such as
decorative round trays
, square trays and rectangular trays, perfect for bringing organisation and elegance to your living space. Explore our
collection
today and discover the beauty and functionality our
decorative trays
can bring to your home. Need help choosing the right decorative tray? Please contact us — our team would be happy to assist.
---