Contemporary Furniture Online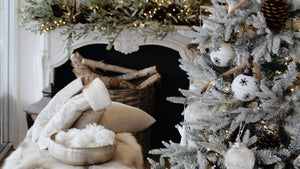 OUR 12 DAYS OF CHRISTMAS SALE IS on now!
December 8th: 20% off Fashion & Accessories
Starting from Friday December 1st to the 12th, a new 20% off floor-stock sale collection will be released at 7am.
Each daily offer is exclusively valid for the specified day only.*
Available in-store and online. While Stocks Last. Conditions Apply.
*LEARN MORE
SHOP FASHION & ACCESSORIES
73 products
---
The search for classic and contemporary home furniture ends here. Hand-picked for their quality and elevated details, our selection of fine contemporary and antique furniture makes it easy to furnish any room in your home. Browse our full furniture collection today and discover quality furniture to transform your interiors and exteriors. 
A curated collection of classic and contemporary furniture
Designed to be distinctive yet timeless, the range of furniture from Suzie Anderson Home evokes the classic lines and quality craftsmanship of traditional furniture making with a contemporary twist. Whether you prefer a simple, airy Hamptons-style home or the ornate elegance of Parisian-style interiors, discover furniture to help you create the perfect atmosphere in your home from our collection. 
Pieces designed to be styled your way
Explore the range of fine wooden furniture, rattan furniture, outdoor furniture, iron furniture, armchairs, fireside chairs, sofas and more. 
Choose from whitewashed pieces that encourage light and airy interiors, perfect for evoking the laidback Coastal style. Invest in a one-of-a-kind 19th-century antique furniture piece and embrace the look of a relaxed country home. 
Experience vintage Indian furniture pieces that evoke a British Colonial feel or play with a combination of classic and contemporary pieces that give an elegant atmosphere well suited for homes with plenty of keepsakes from world travels. 
Our quality-made wooden furniture range evokes a Scandinavian or Belgian style home, with a focus on natural timber, textures and muted colours. Rustic fruitwood and oak pieces are ideal for giving your home a French Provincial feel, perfect for any chateau. 
Not sure which pieces are suitable for your home? Get in touch with us or take our interior styling quiz and discover what aesthetic best reflects your taste and personality. 
Give your business an update with contemporary home office furniture in Australia
We often think about designing our homes, but what about where we work? Whether you have a dedicated home office from which you work, your own small business or small office space, the way you design this space greatly impacts your productivity and the workplace's mood. 
No matter your style, at Suzie Anderson Home, you'll find the best range of classic and contemporary home office furniture in Australia. From writing desks to fine leather executive chairs and other comfortable seating options, shop the collection for office and home use today. 
Suzie Anderson Home — classic and contemporary furniture for your home
If you're looking for that one elusive piece to bring your interior to life, quality outdoor furniture to stand the test of time, or furniture to completely redecorate a home, Suzie Anderson Home has a unique and beautifully made selection to make your space feel truly special.
Shop the range of fine classic and contemporary home furniture, and discover conversation pieces and timeless staples that will bring your home to life. While visiting our online boutique, explore the range of homewares and interior decor that Suzie has carefully selected for their considered details and handmade features.
---