Dining Homewares: Napery, Placemats & Table Linen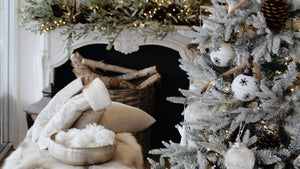 OUR 12 DAYS OF CHRISTMAS SALE IS on now!
December 1st: 20% off Ceramics
Starting from Friday December 1st to the 12th, a new 20% off floor-stock sale collection will be released at 7am.
Each daily offer is exclusively valid for the specified day only.*
Available in-store and online. While Stocks Last. Conditions Apply.
*LEARN MORE
SHOP CERAMICS
95 products
---
Browse the exquisite collection of napery, placemats and tablecloths at Suzie Anderson Home, where style meets quality craftsmanship. Elevate your dining experience with our carefully crafted linen napkins, including Libeco Linen and Hale Mercantile, that bring a touch of elegance to your table settings.
Quality craftsmanship
At Suzie Anderson Home, we prioritise the use of high-quality materials and exceptional craftsmanship to ensure the longevity and durability of our placemats, tablecloths and napery in Australia. Our linens are expertly woven using premium Belgian flax linens, ensuring they withstand the test of time and maintain their beauty even after numerous uses and washes.
Luxurious napery
Indulge in the luxurious feel of our linen napery collection. Crafted with attention to detail, our range exudes sophistication and refinement. From soft and smooth cotton to elegant linen, our napery materials are carefully selected to provide a luxurious touch that enhances your dining experience.
Elegant placemats 
Enhance your table settings with our elegant placemats. Available in a variety of styles, patterns and materials, our placemats effortlessly blend with any decor. Whether you prefer a relaxed design or a contemporary look, our collection offers a range of options to suit your personal taste and style.
Versatile tablecloths
Create a captivating tablescape with our versatile tablecloths. Designed to fit various table sizes and shapes, our tablecloths add a touch of sophistication to any dining occasion. From formal dinner parties to casual family gatherings, our collection features an array of designs and colours to complement your table decor and set the desired ambience.
Styling guide
Our placemats, tablecloths and napery can be shipped Australia-wide and allow you to personalise your table settings. Here are a few styling suggestions:
Mix and match

— Play with different combinations of napery, placemats and tablecloths to create unique and eye-catching table arrangements. Experiment with colour palettes and patterns to reflect your personal style and create a memorable dining experience.

Layering

— Add depth and visual interest by layering multiple linens. Place a table runner on top of a tablecloth or use contrasting placemats to create a striking focal point.

Seasonal themes

— Embrace the spirit of each season by selecting

linen napkins

that capture its essence. Opt for vibrant colours and floral patterns for spring and summer, and choose rich tones and textured fabrics for fall and winter.
Maintenance guide
To ensure the longevity and beauty of your linen napkins, proper maintenance is key. Here are some maintenance tips:
Follow care instructions

— Always refer to the care instructions provided with each linen product. Different materials may require specific washing and drying methods to maintain their quality.

Stain removal

— Treat stains promptly and gently. Blot any spills or stains with a clean cloth or sponge and avoid rubbing vigorously to prevent damage to the fabric.

Ironing

— Iron your

linen napkins

in the appropriate setting to maintain a crisp and polished look. Ironing while slightly damp can help achieve better results.

Storage

— Store your napery, placemats and tablecloths in a clean and dry area. Consider folding them neatly or using protective covers to prevent dust and damage.
Experience the elegance of our napery in Australia
Transform your dining table with our timeless placemats, tablecloths and napery in Australia. Shop the Suzie Anderson Home collection today and discover the linens that provide the ideal finishing touch to any table arrangement.
Browse our extensive collection of napery, placemats and tablecloths or contact our customer service team for assistance — we're always happy to help.
---