Shop by Style: Country Style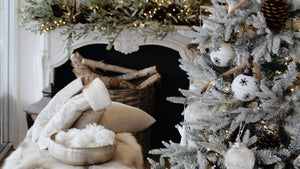 OUR 12 DAYS OF CHRISTMAS SALE IS on now!
December 8th: 20% off Fashion & Accessories
Starting from Friday December 1st to the 12th, a new 20% off floor-stock sale collection will be released at 7am.
Each daily offer is exclusively valid for the specified day only.*
Available in-store and online. While Stocks Last. Conditions Apply.
*LEARN MORE
SHOP FASHION & ACCESSORIES
100 products
---
Country-Style Interiors Australia
Suzie Anderson Home — Your one-stop shop for Country-style decor
At Suzie Anderson Home, we source only the most refined high-quality decor for you to acquire in just a few clicks. Whether you're interested in adding a sense of rustic charm living to your living room or designing your bedroom to be your sleep sanctuary, our curated collection of country-style homewares can elevate any space. 
Design your very own country home with our range of quality country-style decor and homewares, featuring some of our most beloved pieces. From natural rattan trays to chalky white ceramics and botanical and landscape prints, our vast collection of decor and homewares can turn any space into a classic country home.
Country-style interiors feel warm, relaxed, and inviting, with a mix of modern and timeworn furniture, decorative objects, and collections.
Styling your home with Country-style homewares and decor
Here is a quick styling guide to keep in mind when designing your home in the Country-style: 
The Country Style Colour Palette
The country-style colour palette features a base of muted, earthy neutrals in warm tones of chalky whites, taupe, beige, browns, and greys in matte finishes.
This neutral canvas is complemented by rustic timbers, natural stone, and decorative cast iron details which add visual depth and character.
Contrast these darker hues with warm metals of copper, brass, antique silver & blackened iron.
Soft shades of muted reds, sky blues, ochre, sand, and earthy greens are interwoven throughout the home to energise the space.
Architectural elements for this style include tongue & groove timber cladding, timber architraves, and skirting boards. Timber floorboards are softened by sisal, wool, or Turkish rugs.
Window Treatments and Lighting
Country-style table lamps and lighting include ceramic, timber, iron and aluminum table and floor lamps with bespoke fabric shades, which add focused lighting and lustre to reading nooks and living room spaces.
SHOP TABLE LAMPS
Country-style kitchenware decor includes vintage enamelware, chalky white ceramics, decorative baskets, large wooden chopping boards, zinc, glass or ceramic jugs, and vessels to house seasonal blooms.
Ground the space with wall-mounted rattan baskets or jute shopping bags, which can be filled with dried lavender, flowers, onion, garlic, or herbs.
Country-style cushions and blankets add colour and interest, while landscape or botanical artworks and objects are collected over the years and displayed throughout the home on open bookcases and kitchen cabinetry. 
For a step-by-step guide to creating the Country-style look, explore our guide here and shop the style online.

Shop our extensive selection of homewares and decor
From rattan furniture to natural woods, lightweight linens, and other natural materials, we carry the laid-back, welcoming, and high-quality homewares and decor you need to achieve a Country-style home. Our vast curated catalogue allows you to conveniently shop for premium, high-quality homewares, and decor all in one place.
Shop for Country-style homewares and decor in just a few clicks.
---