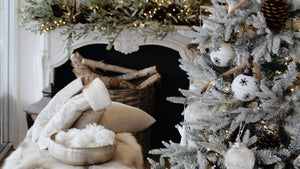 OUR 12 DAYS OF CHRISTMAS SALE IS on now!
December 7th: 20% off Garden Pots
Starting from Friday December 1st to the 12th, a new 20% off floor-stock sale collection will be released at 7am.
Each daily offer is exclusively valid for the specified day only.*
Available in-store and online. While Stocks Last. Conditions Apply.
*LEARN MORE
SHOP GARDEN POTS
9 products
---
Rattan F.A.Q
Our extensive range of Rattan is perfect for all seasons and its versatility lends itself to both interior and alfresco spaces. Environmentally friendly & sustainable, rattan adds a welcoming & natural feel that is perfectly at home in a Hamptons, Coastal or French Country homes. Our collection includes rattan trays, rattan placemats, trays, baskets, umbrella holders, furniture, decor and more.
 Bringing the outdoors in, through woven, raw and repurposed materials gives the warmth of nature to any room and offers a timeless appeal. 


What is rattan?
A climbing vine-like species of palm, rattan is a fast-growing tropical plant which grows prolifically in Indonesia, the Phillipines, and other areas of South East Asia. It grows in the shape of a pole which varies in size, and is regarded one of the strongest woods, growing as high as 30 metres.

Rattan is perfect for all seasons and its versatility lends itself to interior and alfresco spaces. Mixing rattan alongside plaid & wools cushions in cooler months brings a rustic warmth, whereas styling it amongst cottons and canvas provides a relaxed and cooling space in the warmer seasons due to its lightweight and breathable structure.
Rattan lightens the atmosphere of even the grandest architecture and is associated with exotic travel destinations to understated farmhouses and is a perfect addition to counterbalance fine art and antiques. 
Add a touch of elegance with rattan furniture 
Rattan furniture
is a great way to bring the outdoors inside while also updating your space with highly functional pieces. They are both a practical and stylish option since they not only have an organic appearance but are also incredibly durable and simple to clean. 
The assortment of
rattan furniture and storage
offered by
Suzie Anderson Home
is available in various sizes and forms, making them ideal additions to any interior. With our wide selection, picking the ideal home decor for your space is effortless.
Rattan styling ideas
For a bolder statement
Opt for antique brown rattan with navy, charcoal and plaid colourways paired with richer materials such as leather, heavy-weight linen and timber. For an industrial twist, achieve a more rustic look using dark-stained rattan paired with raw concrete, exposed brick and metal accents. Introduce vintage finds such as old trunks and rattan storage furniture to add character.


For a Hamptons & Coastal feel
Pair whitewash rattan with white, oatmeal and blue colourways, along with lighter materials such as bleached wood, coral and driftwood. Create an airy ambience by pairing your rattan furniture with organic materials like bamboo, flax linen, and jute. Introduce some greenery for a lush look, such as palm leaves, a fiddle leaf fig, or hydrangeas.


For a minimal & Urban feel
For a minimal and urban feel, opt for grey-wash rattan and pair it with complementary materials of iron, stone, reclaimed timber, and concrete. For a contemporary feel, pair rattan alongside items with reflection, such as mirrors, glass vases, and glossy ceramics.
Read our rattan styling journal to learn more.
How to care for rattan furniture
There are a few things to bear in mind when caring for your
rattan furniture
: 
Make sure the furniture is kept out of direct sunlight for extended periods of time. This will help prevent fading and cracking of the rattan over time.
Avoid putting any liquids or damp items on the furniture as this may cause damage to the material.
To clean your

rattan furniture

, use a damp cloth and mild detergent. Wipe the surface of the furniture in a circular motion to remove dirt and dust. Be sure not to rub too hard or use abrasive brushes, as this could damage the material.
Once you've finished cleaning, simply wipe down with a dry cloth to remove any remaining moisture.
To give your rattan pieces some added protection, you can apply boiled linseed oil with a paintbrush to help protect the material and give it some shine.
With proper care and maintenance, your rattan furniture can last for many years.
Discover the benefits of rattan furniture at Suzie Anderson Home

If you're looking to elevate your living space with rattan furniture, the carefully selected pieces at Suzie Anderson Home are the perfect addition to any home, providing style and function in one! So why not give your space a natural look while adding to the overall aesthetic appeal? Shop our range now and upgrade your stylish furniture and homewares today!
---