Shop the Style: Classic Contemporary Style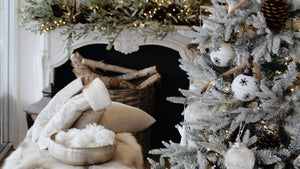 OUR 12 DAYS OF CHRISTMAS SALE IS on now!
December 8th: 20% off Fashion & Accessories
Starting from Friday December 1st to the 12th, a new 20% off floor-stock sale collection will be released at 7am.
Each daily offer is exclusively valid for the specified day only.*
Available in-store and online. While Stocks Last. Conditions Apply.
*LEARN MORE
SHOP FASHION & ACCESSORIES
77 products
---
Classic Contemporary Style Interiors Australia
Suzie Anderson Home — Your one-stop shop for Classic Contemporary style decor
At Suzie Anderson Home, we source only the most timeless and high-quality decor for you to acquire in just a few clicks. Whether you're interested in adding a sense of sophisticated living to your living room or designing a sumptuous and inviting bedroom, our curated collection of classic contemporary style homewares can elevate any space. 
Streamline your interior to evoke a classic contemporary feel with our range of quality classic contemporary style homewares and decor, featuring some of our most beloved pieces. From marble trays to glossy ceramics, crystal glass vases, and abstract artwork, our vast collection of decor and homewares can turn any space into a classic contemporary home.
Classic contemporary style interiors are curated, minimal, and uncluttered.
This style focuses on refined elegance, where handcrafted, quality-made pieces, deliberate use of colour and texture, and attention to detail combine to achieve sophistication and timeless beauty. 
Styling your home with Classic Contemporary style homewares and decor
Here is a quick styling guide to keep in mind when designing your home in the classic contemporary style: 
The classic contemporary colour palette features soft and tonal neutrals of calming whites, ivory, oyster, tan, taupe, and soft greys.
These quiet neutrals are carried throughout the home, allowing each room to flow seamlessly. 
Complementary colours include olive, celadon, or emerald greens, pastel sky and navy blues, soft pinks, mauve, and gleaming metallic accents. 
Rich browns, natural woods, and black are used for grounding and adding definition to an otherwise neutral backdrop. 
Balance, symmetry, and proportion are the most distinctive elements of contemporary style architecture. 
While classic contemporary interiors are not limited to a particular architectural style, this style would be fitting within Georgian, Federal, and English Neo-Classical Styles.
An appreciation of classical architecture is reflected in the inclusion of panelled ceilings, pilasters, skirtings, cornices, and classic wall mouldings. 
Window Treatments and Lighting
For ambient lighting, opt for track and recessed lighting on a dimmer. 
Pendant lighting crafted from bronze, brass, and nickel with glass, metal, or parchment shades features in entryways, kitchen islands, and formal dining spaces. 
You will also find hand-blown crystal glass drop pendants and ornate decorative chandeliers for elegance and glamour. 
SHOP TABLE LAMPS
Classic contemporary interiors tend to showcase 'space' and architectural details rather than excessive collections. 
As such, classic contemporary homes reflect a harmonious and balanced approach to decor.
To achieve a curated feel, select just a few decorative accessories to display on bookshelves, sideboards, or on coffee tables. 
For lustre, options include a glass dome, magnifying glass, metallic trays or charger plates, pretty picture frames, pewter barware, hammered brass candlesticks, glossy hand-crafted ceramics, and glass vases.
For something loved, include eye-catching decorative figurines made from resin or iron, small busts, leather trays or boxes with metallic accents, rattan decor, coffee table books, or your favourite candle or fragrance.

Shop the full collection here.
For a step-by-step guide to creating the classic contemporary style look, explore our guide here and shop the style online.

---