Shop by Style: Japandi Style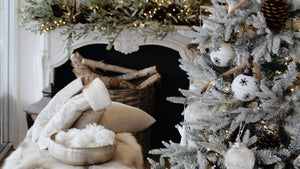 OUR 12 DAYS OF CHRISTMAS SALE IS on now!
December 2nd: 20% off Lighting
Starting from Friday December 1st to the 12th, a new 20% off floor-stock sale collection will be released at 7am.
Each daily offer is exclusively valid for the specified day only.*
Available in-store and online. While Stocks Last. Conditions Apply.
*LEARN MORE
SHOP LIGHTING
44 products
---
Japandi Style Interiors Australia
Suzie Anderson Home — Your one-stop shop for Japandi-style decor
At Suzie Anderson Home, we source only the most stylish and high-quality decor for you to acquire in just a few clicks. Whether you're interested in adding a zen feel to your living room or designing a serene and calming bedroom, our curated collection of Japandi-style homewares can elevate any space. 
Japandi Style style interiors are calming, airy, tranquil, and warm.
This style blends Scandinavian modern-rustic functionality with Japanese Zen minimalism, to achieve a space that reflects a deep appreciation for natural materials.
Styling your home with Japandi-style homewares and decor
Here is a quick styling guide to keep in mind when designing your home in the Japandi design style: 
The Scandinavian colour palette is monochromatic, softened with light neutrals, pale wood tones, pastel greens, blues, and pinks.
Japanese design places emphasis on warm, richer earthy colours and darker woods.
In Japandi style, these colour palettes combine to create a harmonious, peaceful foundation of neutrals including beige, cream, oatmeal, tan, and stone.
Architectural features include oak ceiling beams, floor-to-ceiling windows, sliding screens, wooden wall slats, lime-wash finishes, hand-cut millwork, and stone slabs.
Value is placed on the beauty of the materials and quality of craftsmanship involved in building the home, selecting materials can naturally patina over time.
Window Treatments and Lighting
Organically shaped lights and lamps are often the key statement piece. Pendant lights crafted from paper, sisal, jersey or bamboo add visual weight, balancing out the low-sitting furniture and while rattan floor lanterns provide a soft diffused, ambient light.
Scandinavian-style adjustable floor, wall, and table articulated lights feature matte black or white shades to provide structure and a modern feel. 
Bamboo or roller blinds are perfect for adding privacy, whilst preserving the circulation of natural light and tying in with the existing materials.
When it comes to Japandi-style accessories, every item has its purpose and is often hand-made. The ancient Japanese concept of wabi-sabi refers to harmony, balance, and beauty evident in imperfections and the passage of time.
This philosophy prizes handmade, timeworn, and irregularly shaped objects, seeing cracks, uneven glazes, and chipped paint as unique and special elements.
For a step-by-step guide to creating the Japandi look, explore our guide here and shop the style online.
---