Home Decor: Indoor Decorative Cushions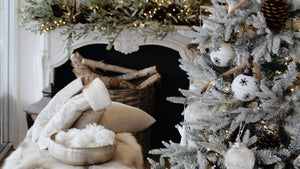 OUR 12 DAYS OF CHRISTMAS SALE IS on now!
December 7th: 20% off Garden Pots
Starting from Friday December 1st to the 12th, a new 20% off floor-stock sale collection will be released at 7am.
Each daily offer is exclusively valid for the specified day only.*
Available in-store and online. While Stocks Last. Conditions Apply.
*LEARN MORE
SHOP GARDEN POTS
95 products
---
Discover the epitome of comfort and style with Suzie Anderson Home's exquisite range of cushions. Our collection of cushions is thoughtfully curated to bring elegance and personality to your living spaces, creating an inviting and cosy ambience that complements your interior decoration.
Explore our range of cushions
Suzie Anderson Home offers a diverse range of floor cushions, chair cushions and couch cushions to suit various design preferences and lifestyles. From plush velvet cushions to textured linen options, our collection includes an array of colours, patterns and sizes, ensuring you find the perfect cushions to adorn your sofas, beds and chairs.
Factors to consider when choosing cushions for your home
When selecting cushions for your home, consider the colour and pattern that complements your existing decor. Mixing and matching textures and sizes can create a layered and visually appealing arrangement. Additionally, prioritise comfort and quality materials to ensure that your cushions look stunning and offer lasting comfort.
Suzie Anderson Home — the best source for elegant floor, couch and dining chair cushions
At Suzie Anderson Home, we strive to provide a seamless shopping experience. Our cushions can be shipped Australia-wide. We also offer various secure payment methods, so you can browse and shop with confidence and peace of mind.
Elevate your home decor with luxurious seat cushions from Suzie Anderson Home. Explore our diverse collection and find floor cushions, dining chair cushions and couch cushions that reflect your style and add personality to your living spaces. To further complete the look of your home, we also have a wide range of other collections, from vinyl flooring to textiles to new arrivals, that are designed to enhance your home's ambience and comfort. Shop at Suzie Anderson Home now and discover the art of cosy sophistication with our stunning range.
FAQs
What materials are used for your cushions, and are they suitable for both indoor and outdoor use?
From seat cushions to floor cushions, our cushions are crafted from a variety of high-quality materials, including plush velvet, soft linen and durable cotton. Depending on the specific cushion, you can find options that are ideal for indoor use, outdoor use or both. 
Can you recommend cushions that complement various home decor themes?
Our diverse range of cushions includes various colours, patterns and textures to complement a wide array of home decor themes. If you seek contemporary sophistication, consider cushions in solid colours or subtle geometric patterns. Opt for neutral tones like grey, white or black to maintain a minimalist aesthetic. The Designers Guild Manipur, Appetto and Belgian Pillow cushion covers are just some of the options in our collection that can help you achieve this.
The Paris Toile, St Troupe and Chaya cushion covers offer just the right amount of comfort and beauty needed to enhance your interior decoration.
You can also mix and match decorative cushions with various colours, patterns and textures to create an eclectic and vibrant space. Play with different styles, from floral prints to abstract designs, to infuse your decor with personality.
Are the cushion covers removable and machine washable?
Yes, most of our cushion covers are removable and machine washable, making it convenient for you to keep them clean and fresh. Always refer to the care instructions on each cushion to ensure proper maintenance.
Are there any eco-friendly or sustainable cushion options in your homewares collection?
Suzie Anderson Home is committed to offering eco-friendly and sustainable options. Our collection includes cushions made from eco-conscious materials, ensuring you can embrace style and environmental responsibility in your home decor choices.
---