Suzie's 5 Ls: Something Loved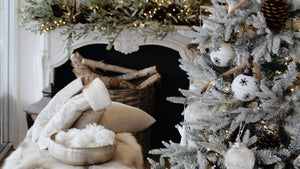 OUR 12 DAYS OF CHRISTMAS SALE IS on now!
December 8th: 20% off Fashion & Accessories
Starting from Friday December 1st to the 12th, a new 20% off floor-stock sale collection will be released at 7am.
Each daily offer is exclusively valid for the specified day only.*
Available in-store and online. While Stocks Last. Conditions Apply.
*LEARN MORE
SHOP FASHION & ACCESSORIES
45 products
---
Unique pieces from your travels, flea-market finds, special heirloom collections, & naturally found objects are all examples of something loved. These items create a lived-in feel and serve as conversation starters for guests and family members.
If you are currently building your collection of décor, we recommend starting with flea markets, antique and second-hand stores, and other unique, antique, and vintage finds available at Suzie Anderson Home. Pay particular attention to an item's material, detail, history, and most importantly what draws you to that item.
Something loved also encompasses living and lustrous elements. To learn more about these two design principles, we invite you to watch the relevant videos in our 5 L's of styling series here.
While these items will be unique to you, here are some ways we like to incorporate something loved throughout the home.
Ideas for decorating with something loved:
Colour:
The first idea is to surround yourself with your favourite colours. For example, blue and white is a classic colour combination in interiors and can be incorporated in a myriad of ways.
For example, you could start with a backdrop of blue and white patterned wallpaper or an oversized statement artwork to serve as an anchor piece. 
Then, carry the same colourway throughout the home by accenting with soft furnishings, custom curtains, chinoiserie vases and ginger jars, decorative plates, lampshades, flowers and photo frames.
Artwork:
Next, showcase artwork that speaks to your soul and design style. Look for opportunities to adorn blank walls with stand-alone statement pieces, a gallery wall, or art prints in a series.
Ideas include... a collection of pressed botanical or floral prints to reflect your love of gardening. An abstract painting that sparks your creativity. A handmade woven tapestry or sculpture sourced from your travels. An oversized framed photograph that captures your favourite nature spot, city, or celebration. Or a gallery wall showcasing special memories with family and friends.
You can also be creative with your choice of frame, swapping out newer frames for antique or vintage finds. 
Decor:
Decorative accessories are one of our favourite ways to incorporate something loved, by creating meaningful vignettes and tailoring them to the seasons and festive periods.
Discover more with our range of antique, unique, vintage, and handcrafted items at Suzie Anderson Home! 
---